What is the Crimson Summer Academy?
The Crimson Summer Academy is an exciting and innovative program for public school students who currently attend ninth grade in Boston, Cambridge, or Somerville who have a passion to learn, a desire to excel, and a commitment to belonging to an intellectual community.
Students are nominated by a principal, teacher, or guidance counselor familiar with their academic and personal potential; and who have not had all of the resources necessary for success are invited to apply.
Over the course of three consecutive summers, cohorts of 30-40 students engage in a stimulating mix of classes, projects, and cultural activities as they prepare for success in college and beyond.
Through small group instruction, sustained support, and close mentoring relationships with college undergraduates, the CSA encourages high school students to expand their vision of what's possible as they prepare to become viable candidates for admission to challenging four-year colleges and universities.
New Students: June 30 to August 9
On-Campus Experience
The CSA offers its students the opportunity to get a taste of college life under the close supervision of its trained staff. Accepted students are known as "Crimson Scholars"— young people who value being part of a vibrant community of learners.
Crimson Scholars live on Harvard's Cambridge campus from Sunday evenings through Friday afternoons of the first summer session, returning to their homes on weekends. Upon successful completion of Session I, they are invited to participate in the following summer's six-week session, which introduces career exploration fieldwork.
In the third summer, Crimson Scholars take college-level courses at the seven-week Harvard Summer School while maintaining their affiliation with the Academy and participating in its cultural and intellectual activities.
Faculty and Guest Speakers
Classes are taught by experienced teachers with advanced degrees. Most have direct ties to Harvard. In addition, Harvard faculty members regularly address the Academy on issues that dovetail with its curriculum.
These special presentations give the Scholars a chance to learn about current research and explore questions in academic fields not encountered in their high schools.
Full Scholarships
The Crimson Summer Academy offers an outstanding educational opportunity to students who show high academic potential but have not had access to all of the resources necessary for academic success. Public school students who currently attend ninth grade in Boston, Cambridge or Somerville; have been nominated by a principal, teacher, or guidance counselor familiar with their academic and personal potential; and who come from financially disadvantaged backgrounds are invited to apply. Students who are admitted to the Academy and succeed in the first summer session, then continue in a public school system during the following academic year, are invited to return for their second summer session. Admitted students who succeed in the second summer session, then continue in a public school system during the next academic year, are invited to return for their third and final summer session at the CSA.
Successful applicants receive full financial support for tuition, room and board, as well as a stipend of $800 for the first summer and a weekly stipend of $200 during the second and third summers. Crimson Scholars who successfully complete the three-year program are awarded a $3,000 scholarship for use at the college or university of their choice.
The Crimson Summer Academy is funded by the President's Office at Harvard University.
Enduring Bonds
Entering the Crimson Summer Academy means joining a community of learners. It's a way to meet and stay connected with other academically ambitious students all through high school and beyond. The mentoring relationships established during the first summer between Harvard undergraduates and Crimson Scholars continue throughout the academic year.
The Academy community also gathers regularly for special events and graduates of the CSA now comprise a network of success that benefits current Scholars in myriad ways. Our commitment to Crimson Scholars doesn't end when autumn begins. Our commitment is deep and long-lasting.
In the 20 years the CSA has existed, it has achieved the following results:
497

Students enrolled in the CSA since the program began

432

Students who completed the CSA

99.8%

Students who graduated from the CSA and enrolled in a four-year college

91%

Students who graduated from the program and graduated from a four-year college in 4-6 years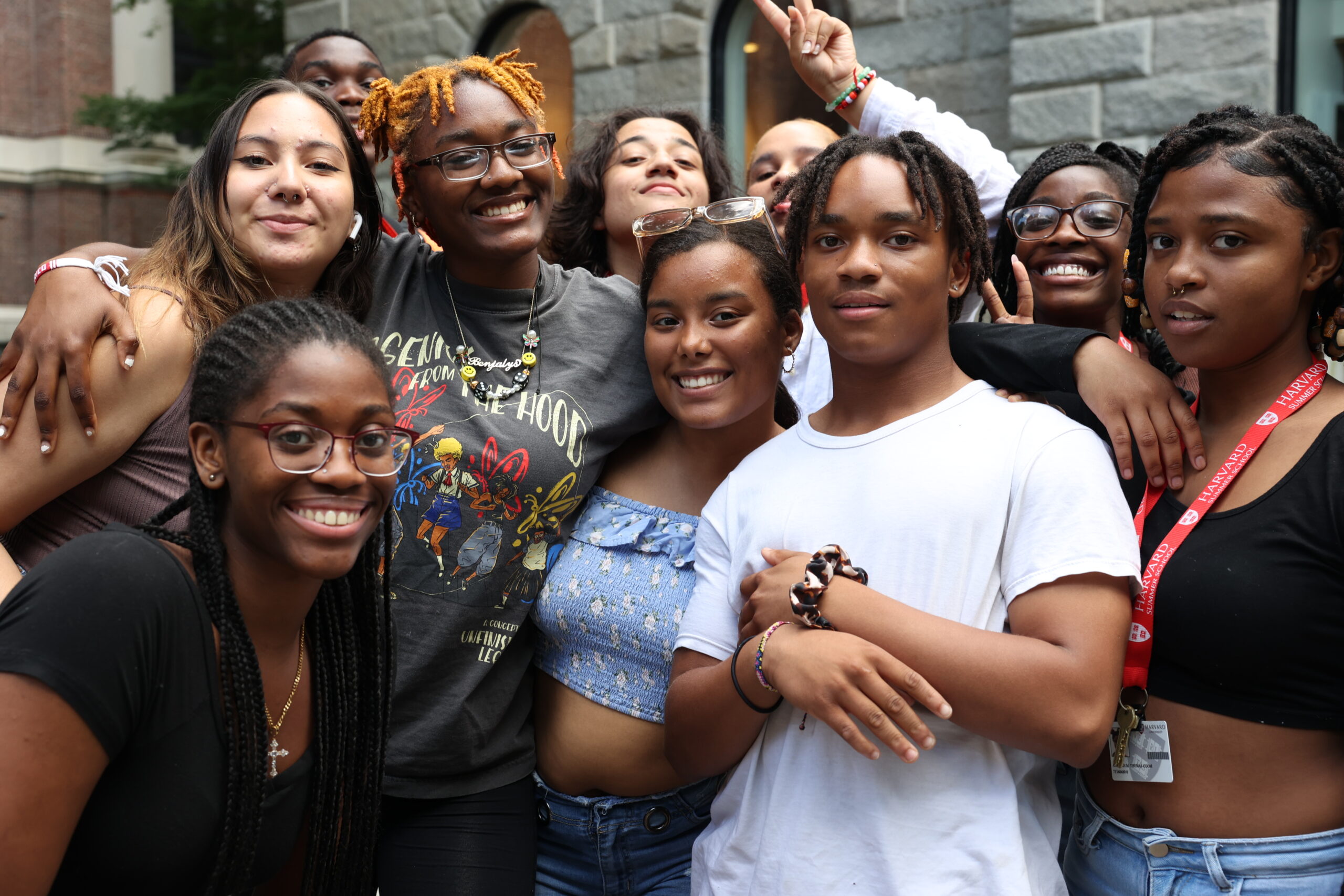 Why Join the Crimson Summer Academy?
Learn what makes the Crimson Summer Academy such an important experience for high school students in this video. Find out why current students and alumni value the experience.
Courses
The interdisciplinary curriculum focuses on asking and answering questions designed to help young people think deeply about their world and their ability to impact the future.
Because the Academy is committed to helping students make informed decisions and participate in democracy as active thinkers and leaders, the curriculum focuses on what it means to be a responsible young person in an interconnected world.
Because the Academy considers successful admission to college a necessary step on the road to personal success, a course called "College Planning and Preparation" is a fundamental part of the curriculum, as is another called "Financial Literacy." Recognizing the importance of emotional wellbeing, all Scholars also take a Wellness course.
The Academy's integrated course of study continues from the first summer to the second. In the third summer, Crimson Scholars take courses at the Harvard Summer School, for which they receive college credit.
Career Exploration Fieldwork
Career Exploration Fieldwork, offered during the Academy's second summer, provides Crimson Scholars the opportunity to broaden their knowledge of post-college options during focused, small-group field trips designed to maximize the attention they receive from high-level professionals, who discuss with the Scholars their own struggles, successes, and professional realities while informing them of the vast and often surprising opportunities available to them.
Field work has included visits to Google, Uber, Sasaki Associates, VistaPrint, WGBH, Brigham & Women's Hospital, Harvard Medical School, Vertex Pharmaceuticals, the Moakley Courthouse, the Massachusetts Statehouse, and many others.
College Planning & Preparation
The CSA College Planning & Preparation sequence helps prepare students to become viable candidates for admission to a range of challenging four-year colleges and universities by focusing on the students' academic needs and concerns and by educating them about the college application process. There are many strategies and suggestions from which all CSA students benefit, but both summers of CPP also address how this information can be incorporated into each student's complex and unique life.
The first summer's curriculum is designed to meet the demands of the sophomore year of high school, while taking into account the varied experiences that each student brings to the Academy. The second summer is designed to coincide with CSA's Career Exploration Fieldwork. Junior Scholars examine their passions and see how they might translate into career interests. Other topics covered in depth include developing leadership skills within the community and understanding the complex process of college admissions. The CPP sequence uses seminar discussion, workshops, and one-on-one conferences to make sure that every student ends each summer with a clear plan for the coming year.
Financial Literacy
In this course, students will learn the essential skills and knowledge necessary to manage their personal finances effectively. Topics covered will include banking, budgeting, saving, credit, and debt management. We will offer cover financial aid and how class economics interacts with your college experience.
Students will begin by understanding their current economic and financial climate. They will then learn how to create a spending plan, track their spending, and the conventions for saving money for both short-term and long-term goals.
The course will also cover strategies for managing debt, including credit card debt, student loans, and mortgages. Students will learn strategies to generate and sustain a good credit score along with the components of credit reports.
Students will briefly learn about the difference between investing and trading while touching upon the fundamentals of both.
Each unit will be grounded in both theory and practice while also discussing the interaction between economics, public policy and self.
Throughout the course, students will develop practical skills and knowledge that they can use to take control of their finances and make life-long informed financial decisions.
Quantitative Reasoning
In the CSA Quantitative Reasoning sequence you will use mathematical thinking to explore real-world topics. It's not just an applied math course—although you'll definitely learn a lot of math along the way—but also a course in developing your ability to reason with numbers and other quantitative objects, such as graphs, functions, and tables.
In the first summer you will learn a variety of problem-solving techniques as you focus on algebraic models, demographics, and models of voting. In the second summer you will engage with cryptology and applied statistics.
In both summers you will apply mathematics to questions that connect with the Academy's other courses and with its overall theme of "Forming Your Future." The QR sequence is both challenging and surprising: by the end of the second summer you will have a new perspective on what mathematics is all about.
Science & Technology
The CSA Science & Technology sequence is a unique and exciting class that focuses on data analysis and the application of the scientific method. The course is designed for high school sophomores and juniors and offers a comprehensive exploration of the subject matter.
During the first summer, students will participate in weekly laboratory sessions and research. The class will cover a variety of topics related to biology, and students will work in small groups using sophisticated equipment to conduct experiments. The focus will be on two primary experiments and the use of statistical tools to determine the validity of the data. The course will use techniques commonly found in university biology labs, and students will be expected to maintain a high standard of individual work while also collaborating with their peers.
The course will begin with a common theme, "What does it mean to be a scholar in an evolving technical world?" From there, students will generate questions and work towards answering them throughout the summer. Upon completion of the first summer, students will have a deeper understanding of the importance of science and the use of statistics in determining the validity of data.
In the second summer, the focus will shift to examining the causes and effects of climate change and the public policy debates surrounding it. Juniors will research global, regional, and local policies and practices related to climate change, analyze air quality and temperature data, and synthesize their findings into a final report presentation.
Throughout the course, students will develop a range of competencies, including the ability to collaborate with people from different locations, communicate and empathize with people who have different perspectives, curate and create content relevant to real-world issues, reflect on and take responsibility for their own learning and that of others, organize their time and tasks to learn independently, and leverage digital tools to support and showcase their learning.
Overall, the CSA Science & Technology sequence offers an exciting and challenging opportunity for high school students to deepen their understanding of science and technology, develop critical thinking and analytical skills, and engage with real-world issues in a meaningful way.
Study Skills
Study Skills, offered all three summers, focuses on skills necessary for college success, including time management, notetaking, reading effectively, goal setting, and many others. Students learn how to apply critical thinking strategies to their academic lives as they also practice important study strategies. Understanding learning preferences is another aspect of class in order to help students personalize their learning as they determine what study skills strategies work best.
Wellness
Our wellness course takes a holistic approach to health and well-being for high school sophomores and juniors. Students will learn about the importance of physical and mental health and practice lifestyle skills such as meditation, nutrition, social emotional learning, movement, sleep, problem-solving skills, and healthy cooking. The course aims to develop lifelong habits and strategies for improving overall wellness and supporting academic and personal goals. Additionally, students will learn how to build healthy habits and, when needed, seek help and support to promote overall wellness.
Writing
In the CSA Writing courses, Scholars work on becoming more confident writers through practice, skill-building, and presentation. They craft products in different genres as they think their way to understanding, always engaging deeply with rich texts.
What does it take to craft and defend a quality literacy narrative or academic essay?
What are strategies to read difficult texts, and to use passages from them as evidence to make one's own argument?
How is writing an academic essay like having a really good conversation?
What does it take to not only craft a technically correct piece of expository writing, but to give it voice and make it say something interesting, important and unique?
What role does the awareness of audience play when we write?
Through studies of strategies like annotation, close reading and summarizing, CSA Scholars learn how to focus when reading a difficult text, figure out what the author is saying, and develop a response. Through critical reading, brainstorming, drafting, revising, editing, conferencing and workshopping their writing, Scholars develop the skills to write with conviction and clarity. Taken all together, Scholars learn more about academic writing that is evidence-based, full of heart, and skillfully shares what they care about with an audience of readers.
Staff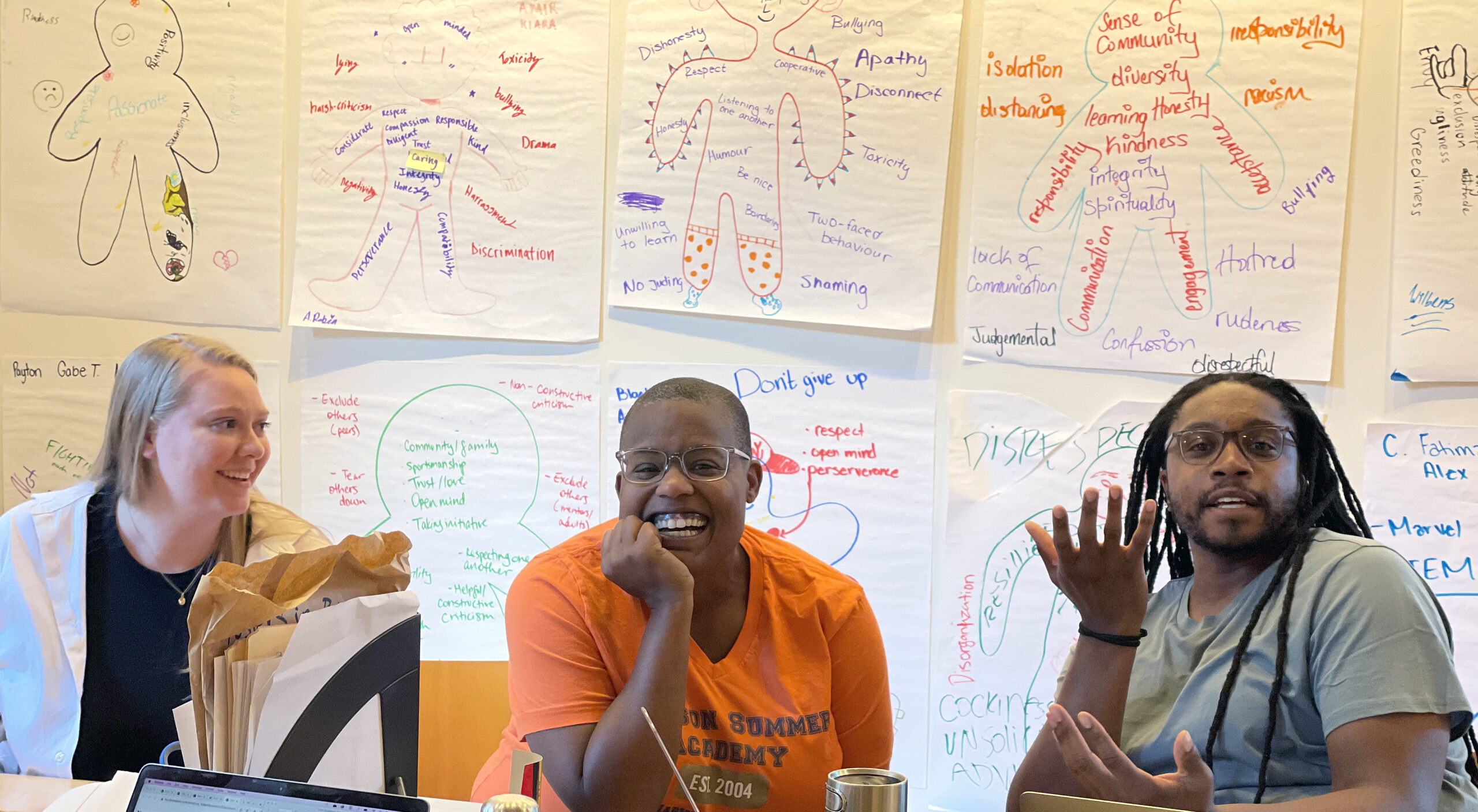 Dr. Kim Parker, Director
Dr. Kimberly N. Parker is an award-winning educator based in Boston who holds a steadfast belief in the power of literacy to normalize the high achievement of all students, especially Black, Latinx, and other children of color. She is currently the Director of the Crimson Summer Academy at Harvard, and published Literacy Is Liberation: Working Toward Justice Through Culturally Relevant Teaching (Feb. 2022) with the Association for Curriculum and Supervision Development (ASCD). The book documents her successful literacy work based on her classroom and professional development experiences.
Kim is the 2020 recipient of the National Council of Teachers of English (NCTE) Outstanding Elementary Educator Award; a co-founder of #DisruptTexts and #31DaysIBPOC; and a former president of the Black Educators' Alliance of MA (BEAM).
Joseph Walcott Lewis, Associate Director
Joseph Walcott Lewis is the Associate Director of The Crimson Summer Academy at Harvard University, he works with high-achieving, low-income high school students as they prepare themselves for the realities of college and beyond. Through direct instruction, mentorship and advising, Joseph ensures that his students are fully poised to embark on and succeed in their college and post-college journeys. Additionally, Joseph is also a member of the Strategic Finance, K-12 Interventive Strategies and Moral Education teaching teams at the Harvard Graduate School of Education, working with educators as they transition into leadership roles in education.
Joseph is a graduate of the Crimson Summer Academy class of 2009. He is also an alumnus of Boston College, where he received his Bachelor's degree in Economics and History. He also earned a Master's in Education Policy and Management from the Harvard Graduate School of Education. In addition, Joseph holds certifications in for-profit finance from Harvard University and personal finance curriculum and instruction from Teachers College, Columbia University.
Jamie Horr Shushan, Senior Student and Alumni Affairs Advisor
Melissa Trottier, Program Assistant
Mentors
Harvard College students, along with CSA graduates who attend other colleges, work closely with the Crimson Scholars throughout the three-year program, serving as role models, teaching assistants, and tutors. The mentors form close ties with the Scholars in the summers and continue these relationships during the academic year.
The 2024 CSA Summer will start on Saturday, June 22 and end on Sunday, August 9. Please apply by Friday, January 20, 2024!
If you have any questions, please contact Joseph Lewis at JLewis@fas.harvard.edu.
Connect
Email: crimsonsummer@harvard.edu
Phone: 617-496-0652
Fax: 617-495-0412
Address
The Crimson Summer Academy
126 Mount Auburn Street
Cambridge, MA 02138